Home
Marketing & Business Development
The Marketing / Business Development Course is included for FREE with the Basic/Advanced Home Inspector Certification Course Package


PHII's Marketing and Business Development course, which is rated at twelve hours, is designed to show you exactly what needs to be done to get your new business up quickly and turn a profit as soon as possible. You can save time and money learning how to quickly grow your business by discovering what works before you jump in headfirst.




During the course, you will also learn how to plan and design a marketing strategy that conforms to your business goals. Sales strategies and confidence-boosting tips and tricks are also included to help you gain the skills to build a referral network for long-term success.




For anyone starting a career in home inspection or interested in starting or growing their existing business, this course contains invaluable information you need to know. Without knowing how to market and promote the services you provide, your business won't live up to its full potential - it's just as important as learning the trade!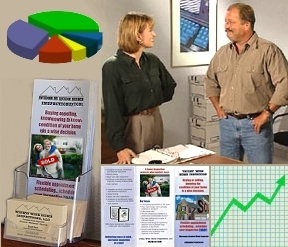 You need to understand the techniques that will help persuade potential clients to choose your business from the myriad others offering services similar to your own.
This course will help you:
stand out from the crowd
distinguish your business from the competition
develop a marketing strategy built around your strengths and talents
learn business marketing concepts
learn how to compete during your first months in business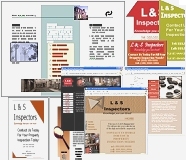 After taking this course you will possess the decision-making and business acumen you need to pursue a successful career in home inspection. In business there is always an element of trial and error, but this course will help you avoid errors as much as possible and follow the path to success - avoiding the pitfalls. Included in the course is a complete template package for marketing and sales. This includes business cards, brochures, flyers, web sites, post cards, and other advertisements. Feel free to modify these to suit your specific needs. PHII's friendly staff is also available to offer tips to help you customize and design your marketing message. This course will give you the knowledge, skills and training you need to hit the ground running.
What You Will Master
Establishing a Company Identity
Identifying your Target Market
Brand Recognition, Logos, and Slogans
Customer Service and Handling Complaints
Analyzing Your Market & Pricing Your Services
Writing A Marketing Plan
Relationships with Realtors
Designing Effective Ad Copy
Public Relations and Salesmanship
Closing the Sale
and much more!




Package includes:




Online Course Access

Computerized Flashcards & Testing

Certificate of Completion

FREA Errors & Omissions packet

Toll Free Student Support

Free Membership in NSHI, the National Society of Home Inspectors.

BONUS:

Online access to the

Marketing & Business Development Course

is included for FREE when you signup for the

home inspector certification course package!



Click the

add to cart

button below and proceed to the checkout to get signed up. You will be emailed a username/password to login and begin.




---
Marketing & Business Development is also available through the following offers: